New Zealand School of Export Alumnus - Trevor Millar, Cowell's Pavlova Kitchen (Dunedin)
Trevor Millar has taken pavlova's to the world. As Export Manager and Director of Cowell's Pavlova Kitchen, he has taken the business which he built up into the world's biggest and probably toughest consumer market—the US—which now accounts for 10% of the company's total earnings.
On hearing that he had successfully completed his studies, Trevor emailed this photo taken at 8.45am on 2nd March 2009, in 46th St near Times Square, New York: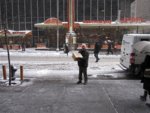 "We did 14 "very cold calls" when the temperature was about 21 F. The next day it was down to 12 F with a strong cold wind and we did another 10 calls, but a lot of the snow had been swept away into slushy piles in the gutters...so it was not so pretty. So this shows what length graduates of your course will go to in order to apply what they have learned.
Even though the USA stock-market is at its lowest level in 12 years, and USA unemployment is at it's highest level for 25 years - I still sold pavlovas into the market using what I have learned from the course."
In addition to gaining the Diploma of International Trade, Trevor was awarded the New Zealand School of Export 2008 'Distinguished Exporter Award' for his outstanding contribution to developing an iconic New Zealand brand.